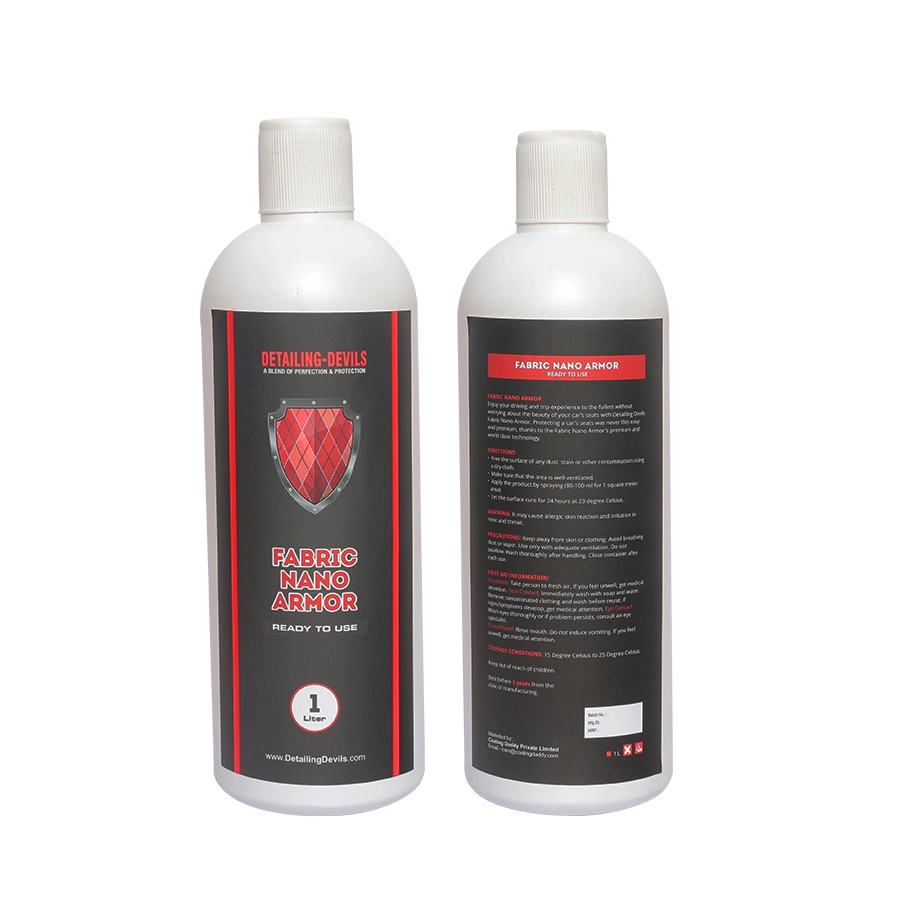 Fabric Nano Armor Restores & protects car fabric
Fabric Nano Armor (FNA) is an industrial nano coat which has been specifically formulated to protect car's textile surfaces from anti-fouling, stains, water or any other impurities.

The oleophobic feature of FNA protects fabrics from water and oil based stains. And makes them more breathable and extremely durable.
In addition to that, it makes ordinary fabrics waterproof and easy to clean.
Not just protection, it also gives the interiors a pleasant fragrance and increases their hygiene level.
KEY FEATURES
Makes the car fabric brand new and protected.
Great protection against anti-fouling, stains, water etc.
Makes it more breathable and durable than before.
Makes the fabric waterproof and much easier to clean.
Gives fabric a pleasing fragrance and more hygiene.
Decent protection against scratches, dirt and other contaminants.
100% safe and no side effects at all on the car's fabric.
More durable and effective than any other coating in the market.
| | |
| --- | --- |
| Durability | Upto 6 MONTHS |
| Coating Thickness | ~75-100 nm |
| Surface Type | Car Textile, suede, Textiles - Suede - Nubuck - Velvet |
| Temperature Durability | 110 °C |
| Chemical Resistance | 11>ph>1 |
| Appearance | Colorless Liquid |
| Dry Film Thickness | 75-100 nm |
| Consumption per Unit Area | 80-100 mL/m2 |
| Application Temperature | 5°C-30°C (≤50% RH) |
| Temperature Durability | 110°C |
| Water Contact Angle | 144° @10 µL |
| Water Sliding Angle | 7° @20 µL |
| Oil Contact Angle | 92° @10 µL |
| Dry-to-Touch Time | 6h |
| Curing time | 24h at 23°C - 50% RH |