How to clean your car's interior - 8 Best Tips
Are you enthusiast to take your ride for a spin but are turned off as soon as you enter it? Well, a dirty car interior can make it happen and it's not a pleasant experience at all.
But no worries as in this post we'll teach you how to clean your car's interior and that too with a minimum of resources and investment.
At Detailing Devils we get the best out of your ride's look as well as guide you on how to keep it in proper condition so that you don't have to waste your precious time and money. So without further ado, let's make your car's interior the best in the world.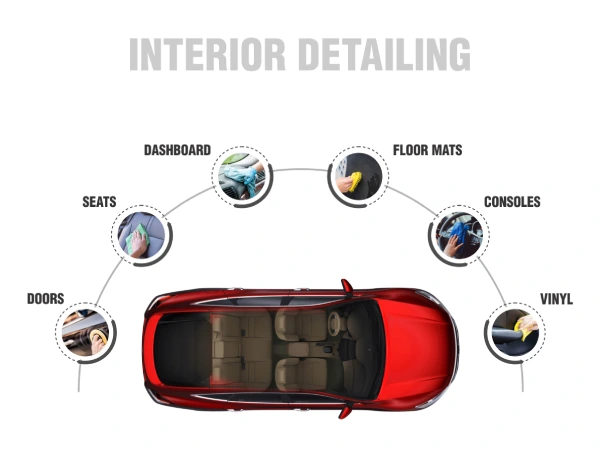 How to Clean Car Interior Steps:
Clear Trash
First clear out the obvious trash from your ride's interior such as paper napkins, toffee wrappers, beverage glasses, snack plates, etc. Check everywhere and remove anything you think can mess up with your portable vacuum cleaner.
Remove and Clean Floor Mats
Next, pull the floor mats out of the car and shake them as much as possible so that all the loose dirt falls off. Doing so will make vacuuming much easier. Then scrub the mats with soap and hot water and let them dry completely before placing them again.
Vacuum Interior Car Seats and Floors
In the third step of how to clean your car's interior, vacuum clean both the front and back seats, the floor, and the trunk. Vacuum every area of the interior where the nozzle can reach including under the pedals, and the side door panels.
Clean grime and dust
After vacuuming the vehicle, grab a clean microfiber cloth and wipe all the stubborn dirt, dust, and sticky stuff. Spray a small amount of interior cleaner over the console, steering wheel, and the space between the seats to restore a brand new car look.
Clean cup holders
Did you know that cup holders can collect grime, spilled coffee, and skin cells? Yes, they can so take a cotton swab, dip it in a nice cleaning solution, and clean the difficult places thoroughly. In some vehicles, the cup holders can be removed for more thorough cleaning.
Clean Interior Windows
In the next step, spray some window cleaning solution on windows and wipe them with a good quality paper towel or microfiber cloth. You can also make an effective window cleaning solution at home by mixing water, two tablespoons vinegar, and one cup of rubbing alcohol.
Remove Stains
If there are stains on the seats or carpets and that is inevitable if you have kids or pets, then spray a good quality seat cleaning solution on them, let it sit for 15-20 minutes, and clean with a wet coating microfiber cloth.
If they still don't go away, you can also opt for our specialized car interior cleaning service.
Remove Pet Hair
If you have a pet at home, then you must be quite aware of the menace that you go through on a daily basis to handle it. So speaking about its impact on the car, take a vacuum cleaner and clean all the fur that has been sticking on the seats for so long.
If they all don't disappear with vacuuming, wear rubber dipped gloves and remove the fur slowly and slowly by hand.
How to Clean your car's interior Conclusion
So that's it mate, easy and effective tips to clean your car's interior. The interior of your ride can create a bigger impact on the ones around you so be careful about its appearance and go that extra mile for its care. See you in the next post, peace.