Unlocking the Benefits of Mobile Car Detailing: An Essential Guide
Car detailing is a fast-growing trend, as people are looking for ways to keep their cars looking their best and maintain their value. But many of us don't have the time or energy to go out and make appointments at brick-and-mortar car detailing shops. That's where mobile car detailing comes in - it offers a convenient solution that allows you to get the job done without leaving the comfort of your own home. In this guide, we'll unpack what mobile car detailing is, its benefits, how it works, and more. Read on to learn all there is to know about unlocking the benefits of mobile car detailing.
What is mobile car detailing?
Mobile car detailing is a service in which your car is detailed at your home or office by a professional. The process includes cleaning and polishing the interior and exterior of your car to restore it to its original condition.
This type of detailing is convenient because you don't have to take your car to a detailing shop. The mobile detailer will come to you, so you can get your car detailed while you're at work or running errands.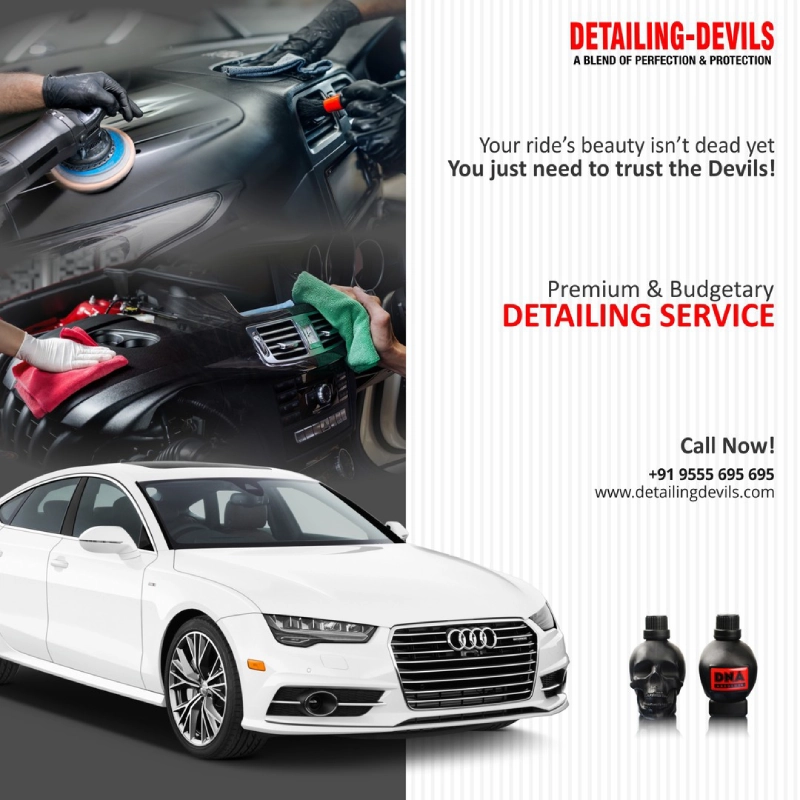 Mobile car detailing is a great way to keep your car looking its best. It's also a good idea if you're selling your car, as it will help increase its value. If you're buying a used car, mobile detailing can help ensure that the vehicle is in good condition before you make the purchase.
The benefits of mobile car detailing
Mobile car detailing is a convenient and professional service that offers a wide range of benefits to customers. Some of the key benefits include:
Convenience: One of the main advantages of mobile car detailing is the convenience it offers. With mobile detailing, customers no longer have to take their cars to a fixed location for detailing services. Instead, a mobile detailing team will come to the customer's location, whether it's their home or office, to perform the detailing services. This means that customers can have their cars detailed at a time that is convenient for them, without having to take time off work or arrange for transportation.
Variety of Services: Mobile car detailing teams typically offer a wide range of services, including exterior and interior detailing, engine cleaning, paint correction, and more. Some mobile detailing companies may also offer specialized services such as ceramic coatings and paint protection film application. This means that customers can have all of their detailing needs met by one company, rather than having to go to multiple locations for different services.
Professionalism: Mobile car detailing teams are typically staffed by professionals who are trained and equipped to handle all aspects of detailing a car. This ensures that the job is done correctly and efficiently, and that the customer's car is returned in the best possible condition. Additionally, mobile detailing companies use top-of-the-line tools and products to ensure that the customer's car is cleaned and protected to the highest standard.
Cost-effectiveness: While mobile car detailing services may be slightly more expensive than traditional detailing services, they can still be a cost-effective option. This is because mobile detailing teams can often offer package deals or discounts for customers who schedule regular detailing services. Additionally, the convenience of having a mobile detailing team come to the customer's location can save on transportation costs.
Personalization: Mobile car detailing teams often have the ability to tailor their services to the specific needs of the customer. For example, if a customer is looking for a more thorough detailing of their engine, the mobile detailing team can allocate more time and resources to that area. Additionally, if a customer has specific requests for certain products or techniques to be used, the mobile detailing team can accommodate those requests. This level of personalization ensures that the customer's car is detailed to their exact specifications and satisfaction.
Eco-friendly: Many mobile car detailing teams use eco-friendly products and methods to ensure that the environment is protected while their services are being performed. These products and methods are not only better for the environment, but they are also better for the customer's car. For example, using eco-friendly products can help to prolong the life of the car's paint and protect the car's exterior from harmful elements.
Scheduling Flexibility: One of the most significant benefits of mobile car detailing is the flexibility in scheduling. Mobile detailing teams are typically available at all hours of the day, which means that customers can have their cars detailed at a time that works best for them. This is particularly useful for customers who have busy schedules or for those who need their cars detailed on short notice.
How to find a mobile car detailer
Assuming you don't have a regular car detailer that comes to your house or office, there are a few ways you can find a mobile car detailer in your area.
The first way is to do a simple Google search for "mobile car detailer + your city." This should give you a good starting point for finding services near you. Once you have a few options, take some time to read reviews and compare prices.
Another option is to reach out to local car dealerships and see if they have any recommendations. Many of them work with mobile detailing services on a regular basis and can point you in the right direction.
Finally, ask around! Talk to friends, family, and co-workers who might have used a mobile car detailing service before and see if they have any good recommendations.
What to expect from a mobile car detailer
When you book a mobile car detailer, you can expect a team of professionals to come to your location and provide a comprehensive cleaning and detailing service for your vehicle. The process usually starts with an exterior wash, followed by an interior clean. The team will then move on to polishing, waxing and protecting your car's paintwork. They may also apply a vinyl wrap or other protective coating to the exterior of your car. Finally, they will add a layer of protection to the inside of your vehicle by applying a fabric or leather conditioner.
Tips for getting the most out of your mobile car detailing experience
Assuming you have already booked a mobile car detailer, there are a few things you can do to get the most out of the experience. First, be sure to clean out your car before the detailer arrives. This will save time and allow the detailer to focus on the areas that need the most attention. If you have any specific concerns about your car, be sure to communicate those with the detailer before they begin work. Finally, be sure to ask for a detailed report of what was done during the detailing process so that you can replicate the results in the future.
Conclusion
Mobile Car Detailing can be a huge benefit to any car owner, no matter what their level of experience may be. Not only does it provide a convenient solution with minimal hassle, but it also ensures that your car is always in top condition and looking its best. With the tips laid out in this guide, you now have everything you need to get started unlocking these benefits for yourself. So don't wait any longer – start taking advantage of all that Mobile Car Detailing has to offer today!