Want To Start A Car Detailing Business? Here's Your One Stop Guide
If you're thinking about starting a car detailing business, then you've come to the right place. In this one stop guide, we'll cover everything you need to know to get started, including what equipment you'll need, where to find customers, and how to price your services. So if you're ready to get started in the car detailing business, then read on for everything you need to know.
What is Car Detailing?
A car detailer is someone who cleans and polishes the interior and exterior of a vehicle to restore it to its original condition or better. This can be done by hand or with the help of machines.
Car detailing is not the same as a car wash, which simply cleans the outside of a vehicle. Car detailing involves a more thorough cleaning, both inside and out, and may also include polishing, waxing, and other treatments to restore the car's finish.
Detailing can be done on all types of vehicles, from cars and trucks to boats and RVs. The goal is to make the vehicle look as good as new, or even better.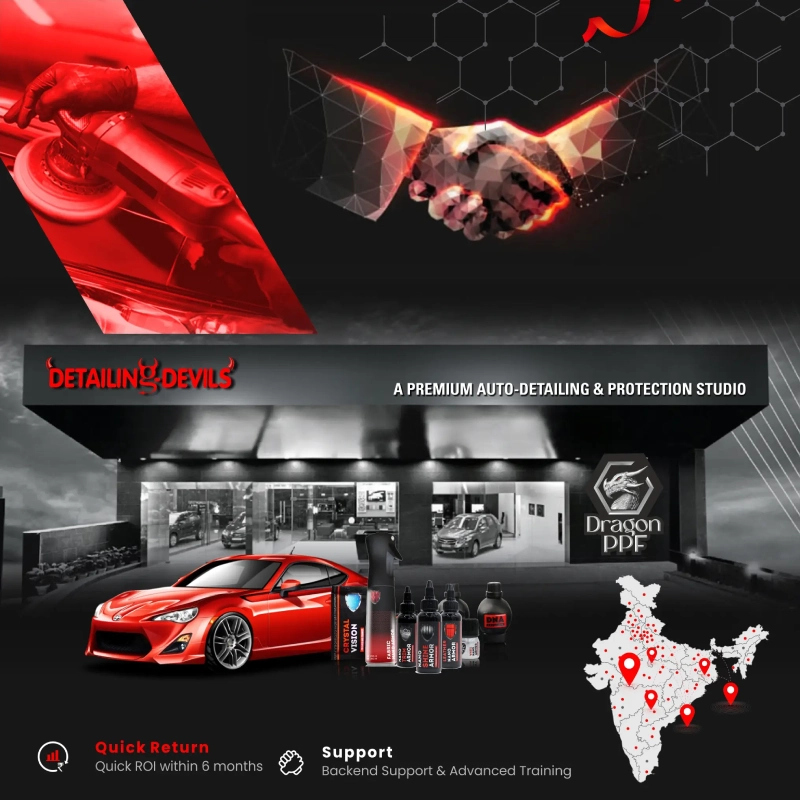 The Benefits of Starting a Car Detailing Business
There are many benefits to starting a car detailing business. For one, it is a relatively low-cost business to start up. You don't need much in the way of equipment or supplies, and you can often find used or affordable equipment. Additionally, there is a growing demand for car detailing services, as people are increasingly aware of the importance of keeping their cars clean and well-maintained.
Another benefit of starting a car detailing business is that it can be relatively flexible in terms of hours and location. You can choose to work from home or rent space in a commercial location. And you can typically set your own hours, although you may need to be available during peak times such as weekends or holidays.
Finally, starting a car detailing business can be a great way to earn extra income or even make it your full-time job. If you're passionate about cars and take pride in your work, then this could be the perfect business for you. With some hard work and dedication, you can build a successful car detailing business that provides quality services and satisfied customers.
Looking to get into the car detailing business? Detailing Devils is now offering franchises across India! For just Rs. 15 lakhs, you can become a part of the Detailing Devils team and start your own business! We provide complete training and support, so you can hit the ground running and start making money right away. With our proven business model, you can be assured of success. So don't wait any longer, contact us today and take advantage of this fantastic opportunity!
The Different Services Offered by Car Detailers
There are many different services that car detailers offer. Some of the most popular services include:
Exterior Washing and Waxing — This is a basic service that most car detailers offer. It involves washing the outside of the vehicle with soap and water, and then waxing it to protect the paint.
Interior Detailing — This service involves cleaning the inside of the vehicle, including the carpets, upholstery, and dashboards.
Headlight Restoration— This is a popular service that many car owners are interested in. It involves restoring dull or yellowed headlights back to their original brightness.
Engine Cleaning — This is a detailed cleaning of the engine bay and engine itself. It is often recommended for vehicles that are due for an oil change or tune-up.
Paint Correction and Protection — This is a popular service for those who want to maintain their vehicle's paint job in pristine condition. It involves correcting any imperfections in the paint, and then protecting it from future damage with a sealant or coating.
What You Need to Start a Car Detailing Business
If you're thinking about starting a car detailing business, congratulations! You're about to embark on a very exciting journey. In this article, we'll give you everything you need to get started.
First and foremost, you'll need to have a passion for cars. This is absolutely essential if you want to be successful in this industry. If you don't love cars, it's going to be very difficult to convince customers to pay you to clean and detail their vehicles.
Secondly, you'll need to be very organized and detail-oriented. This business is all about paying close attention to the small details that make a big difference. If you're not naturally organized or detail-oriented, that's okay — but you'll need to work hard at it.
Thirdly, you'll need some basic equipment. A pressure washer, vacuum cleaner, and various cleaning supplies are essential. You may also want to invest in some more specialized equipment like an air compressor and polisher, but this isn't required.
Fourthly, you'll need a reliable vehicle. This is important because you'll be traveling to your clients' homes or businesses to perform the work. Your vehicle should be large enough to comfortably fit all of your equipment, and it should be reliable so that you can always get where you need to go without any problems.
Finally, you'll need insurance. This is important for two reasons: first, because it will protect you financially if something.
Marketing Your Car Detailing Business
To get customers, you'll need to market your business. Start by creating a website and social media accounts. Make sure to list your services, prices, and contact information on your website. You can also distribute flyers and business cards in local businesses and post them in public places. You can also offer discounts or coupons to attract new customers.
Don't forget to ask your satisfied customers to leave reviews on your website or social media accounts. Good reviews will help you attract more business. You can also offer referral bonuses to customers who refer new clients to you.
Finally, stay active on social media and regularly update your website with new content to keep people coming back.
Pricing Your Services
The pricing of your car detailing services is one of the most important aspects of your business. You need to make sure that you are charging enough to cover your costs and make a profit, but not so much that you are pricing yourself out of the market. There are a few things to consider when setting your prices:
The cost of your materials and supplies — This includes the cost of soap, wax, polish, towels, etc. that you will use to detail a car. Make sure to factor in the cost of shipping or gasoline if you have to travel to get supplies.
The cost of your labor — This is how much it will cost you to actually do the work. Consider how long it will take you to detail a car and how much you need to pay yourself per hour to make a profit.
The price of your competition — Take a look at what other businesses in your area are charging for their services. You don't want to be too high or too low, but somewhere in the middle.
Once you have considered all of these factors, you can set your prices accordingly. Remember to review them periodically and adjust as necessary based on changes in your costs or the market.
Tips for Running a Successful Car Detailing Business
Start by assessing your interest in the car detailing business. Do you have a passion for cars? Are you detail-oriented? Do you enjoy working with your hands? If you answered yes to these questions, then starting a car detailing business may be the right fit for you.
Next, research the industry to get a better understanding of what is involved in running a successful car detailing business. Consider things like start-up costs, equipment needs, and marketing strategies.
Once you have a good grasp on the industry, it's time to start planning your own car detailing business. Create a business plan that outlines your goals, budget, and strategies for success.
Now it's time to get started! Purchase the necessary equipment, find a suitable location for your business, and start marketing your services to potential customers.
Keep in mind that running a successful car detailing business takes hard work, dedication, and attention to detail. But if you're up for the challenge, then you can definitely achieve success in this field
Conclusion
Assuming you have the proper equipment and supplies, starting a car detailing business is relatively straightforward. You'll need to set up shop in a central location, advertise your services, and start taking on clients. Be sure to price your services competitively and offer discounts for bulk bookings. With a bit of elbow grease and some attention to detail, you can build a successful car detailing business in no time.